Harris Interactive® poll - August 2005

---


88% of people that purchased online, did research on the internet before purchasing

Harris Interactive® poll - August 2005

---


67% of people that did research before making a purchase online used a search engine

More than 60% of Americans use the internet and they spend well over $100 BILLION !!!


Our staff of professional Real Estate Internet Marketing gurus can help you target customers that are looking for the types of services or products that you provide.




Our Real Estate Internet Marketing strategy depends on you customer base, the homes or services that you are offering, and your budget.
Some of our Real Estate Internet Marketing strategies include the following:



Sponsored Listings

Also know as 'Pay-Per-Click' or 'Paid Inclusion'. You are placed in the major networks which include Google, Yahoo, MSN and many others. You pay an agreed upon amount when someone clicks on the link that directs them to your website.

Web Page Optimization & Search Engine Submission

This strategy is two-fold. In part one, Web page optimization is used to make your page as friendly as possible to the Search Engines -- You want the search engines to be your website's friend. The second part, search engine submission/inclusion is getting the search engines to add your site to their database.
These two parts can be done separately, but they amplify and complement each other.

Local Online Yellow Pages

This strategy is used for targeting local customer or customers looking for services, products or anything in your local area.
We manage sponsored listing (Pay-Per-Click) campaigns in the following networks:

  The yahoo network includes:

MSN.com
Altavista.com
Alltheweb.com
Excite.com
Dogpile.com

  The Google network includes:

fomerly AskJeeves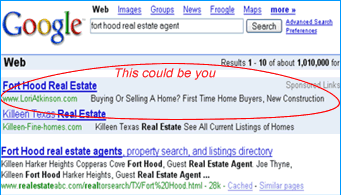 Do you want to see your website "instantly" at the top of the major search engines such as Google, Yahoo, and MSN. We are experts at managing your Pay-Per-Click campaign -- also know as sponsored listings.
Don't be fooled, Pay-Per-Click is not just paying/bidding to be well placed in the search engines. There are multiple aspects that ONLY an expert would know--And there are many experts out there that use their whole bag of tricks to undermine others that are not aware. We GUARANTEE results.
You've worked hard for your money. So, you want it to work for you as efficiently as possible. This is only possible with companies like us that continuously monitor and refine your marketing campaign.
Determine your keywords with our award winning statistical software and marketing experience
Create banners for your keywords
Continuous monitoring of your campaign
Countering fraudulent clicks
Readjust / Refine bidding price & placement
and much, much more